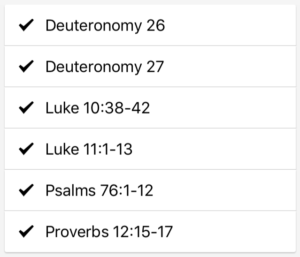 Thanks for joining us on this journey of building a consistent habit of reading our Bibles every day. The Bible reading plan we are using this year can be found here: One Year Bible or here on the Bible app. As always, if you miss a day, don't feel compelled to go back and catch up. Just skip it and start back on today's date. I am reading the NLT this year, but feel free to use whatever version you prefer. Now here are some thoughts from today's readings:
So if you sinful people know how to give good gifts to your children, how much more will your heavenly Father give the Holy Spirit to those who ask him.
– ‭‭Luke‬ ‭11:13‬
     This is verse is often used out of context. People use it to say that God is going to give you good things whenever you ask for them, but that's not what it says. It only promises the greatest gift, the Holy Spirit. To use this verse to say that God wants to give you stuff is not only a misinterpretation (one I myself have made in the past), but it misses the point of how great a gift the Holy Spirit is!
     Have you asked the Father for the Holy Spirit today? Do you ask every day? Every moment? Why not? What great opportunities are wasted in our lives because we don't ask for the Holy Spirit. The Holy Spirit is God. Most people wouldn't openly reject the Holy Spirit, but we do reject Him through neglect. So, don't neglect Him today. Ask the Father for the Holy Spirit right now! And keep asking for more as much as possible. You won't be disappointed when you unwrap this gift from your Father!
How often do you ask God for the Holy Spirit?