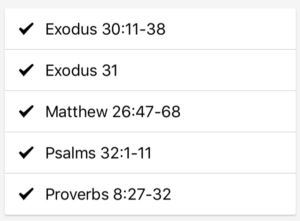 Thanks for joining us on this journey of building a consistent habit of reading our Bibles every day. The Bible reading plan we are using this year can be found here: One Year Bible or here on the Bible app. As always, if you miss a day, don't feel compelled to go back and catch up. Just skip it and start back on today's date. I am reading the NLT this year, but feel free to use whatever version you prefer. Now here are some thoughts from today's readings:
"But this is all happening to fulfill the words of the prophets as recorded in the Scriptures." At that point, all the disciples deserted him and fled.
– Matthew 26:56

     At first the disciples were ready to fight for their Master. Then Jesus stopped them and told them to trust the Lord. This tough season was all part of God's plan. It has to be this way. When the reality set in that their plans and God's were quite different, that's when they fled.
     Have you seen this kind of attitude in your own life? If following Christ was all about fighting and winning, it would be an easy sale. We are wired for that kind of stuff. It's when we are told to put the brakes on and wait on God that the train comes off the rails. "Wait? Why? I have a sword right here… Let's do this thing!" It's when we are told that God is actually trying to use the suffering of our current season for His purpose that we tend to run away.
    This is especially hard when we have the "sword in hand" and could try to accomplish the goal in our own way. This is never a good idea. A God thing that's not in step with God's plan is never a God thing. Patience and trust our two of the most important ingredients to great faith. Unfortunately, they are often the reason people turn away from faith. If we're told to climb a mountain, we'll die trying. Tell us to wait on God, and, well, we are so willing to die for that idea, now are we?
Where have you been failing to wait on God? Have you been trying to take matters into your own hands?