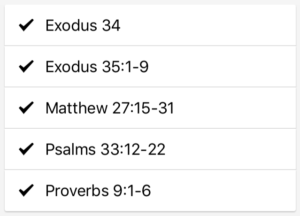 Thanks for joining us on this journey of building a consistent habit of reading our Bibles every day. The Bible reading plan we are using this year can be found here: One Year Bible or here on the Bible app. As always, if you miss a day, don't feel compelled to go back and catch up. Just skip it and start back on today's date. I am reading the NLT this year, but feel free to use whatever version you prefer. Now here are some thoughts from today's readings:
Just then, as Pilate was sitting on the judgment seat, his wife sent him this message: "Leave that innocent man alone. I suffered through a terrible nightmare about him last night."
– Matthew 27:19
     God gives us opportunities to see the truth if we'll open up our eyes to them. Pilate can not stand before God and say "How was I to know Jesus was Your Son?" That is answered simply. "I gave your wife a dream." Pilate chose not to listen to what God was saying to him through his wife.
     Who are you not listening to that God might be trying to speak to through? God's voice is not always direct. Sometimes, He wants us care enough about His voice to search for it a little. Other times, He wants us to value other people and their gifts, and for us to see Him speaking through them. Either way, there is a strong possibility that the voice of God is coming to you right now through a familiar voice. The question is, are you hearing and heeding it?
So, what is God trying to say to through others? Is there something others keep challenging you with?