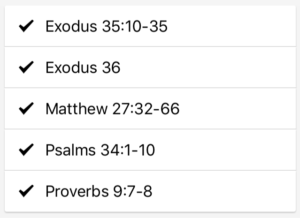 Thanks for joining us on this journey of building a consistent habit of reading our Bibles every day. The Bible reading plan we are using this year can be found here: One Year Bible or here on the Bible app. As always, if you miss a day, don't feel compelled to go back and catch up. Just skip it and start back on today's date. I am reading the NLT this year, but feel free to use whatever version you prefer. Now here are some thoughts from today's readings:
So Moses gave the command, and this message was sent throughout the camp: "Men and women, don't prepare any more gifts for the sanctuary. We have enough!" So the people stopped bringing their sacred offerings.
– Exodus 36:6
     Now this is not the kind of story you hear everyday. The people brought too much offering and were told to quit. I bet you've never had that experience at Church, have you? It's offering time and the Pastor says, "Keep your money. We have more than enough to do all that God wants us to do. Too much, in fact. I'm not sure what we are going to do with all of it!"
     Me neither. There's so much work to be done and much of it requires financial resources. How quick would the gospel be spread if money wasn't an obstacle? Yet, there is probably enough wasted money in the lives Christians right now just in America that we could accomplish the same thing that happened here to Moses. We just have to believe in honoring God with our money as much as they did (and they weren't the most God focused people… So what does that say about us?).
     To these people it wasn't about what had to be done. It wasn't even about their own personal holiness or desire to sacrifice. It was all about one thing: God was worthy of their everything. And when it came time to build a place for God to meet with man, they spared no expense become God was worth it.
     Today, local Churches all over the world are building places for people to meet with God. I'm not talking about building buildings, though it may include that. I'm talking about missionaries who are risking their lives and lives of their families to spread the gospel. I'm talking about local Churches trying to meet needs of their third world communities in the name of Jesus. The last thing these heroes of the faith should wrestle with is lack of funds! It's our turn to step up and say God is worthy and then show it by giving extravagantly.
Ask the Lord to put a missionary or organization on your heart to give to. Then ask Him how much you should give. You don't have to share details, but let us know that is speaking to you below in the comments!