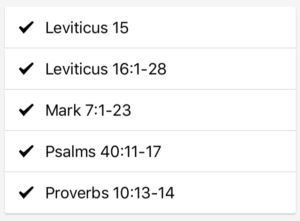 Thanks for joining us on this journey of building a consistent habit of reading our Bibles every day. The Bible reading plan we are using this year can be found here: One Year Bible or here on the Bible app. As always, if you miss a day, don't feel compelled to go back and catch up. Just skip it and start back on today's date. I am reading the NLT this year, but feel free to use whatever version you prefer. Now here are some thoughts from today's readings:
The Lord said to Moses, "Warn your brother, Aaron, not to enter the Most Holy Place behind the inner curtain whenever he chooses; if he does, he will die. For the Ark's cover—the place of atonement—is there, and I myself am present in the cloud above the atonement cover.
– Leviticus 16:2
     Look at what all it took just for the priest to get close to God's presence! Our sin has separated us so far from God and the only way back to Him is through blood.  Look at all the animals that had to be sacrificed, all the sins that had to be confessed, and even the body washed and holy clothes worn! It's crazy sounding, isn't it? But that's how much greater the Lord is than us. Luckily, through Jesus, God made the way much simpler. Jesus' blood paid for all of these sacrifices once and for all.
     Don't take for granted what God did for you in sending His Son Jesus to die for our sin. Notice that if Aaron got one little thing wrong, it would cost him his life! Can you imagine the amount of fear and reverence that would create? Now that the process is streamlined in Christ, Jesus covers all of the mistakes on our journey to God. That should not minimize our reverence, humility, and brokenness before God. It should maximize it! However, many take this for granted and live without the fear of the Lord in their lives at all. We should never forget that we are saved by grace and not works, but we should equally never forget that generations went to the Lord at the risk of their lives. We should be both eternally grateful and eternally in a fearful awe of such an awesome, yet loving, God.
Have you taken the simplicity of God's grace for granted? What are you going to do about it?