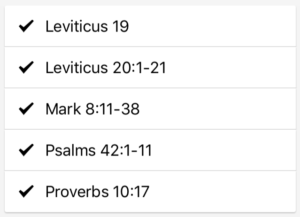 Thanks for joining us on this journey of building a consistent habit of reading our Bibles every day. The Bible reading plan we are using this year can be found here: One Year Bible or here on the Bible app. As always, if you miss a day, don't feel compelled to go back and catch up. Just skip it and start back on today's date. I am reading the NLT this year, but feel free to use whatever version you prefer. Now here are some thoughts from today's readings:
As the deer longs for streams of water, so I long for you, O God. I thirst for God, the living God. When can I go and stand before him?
– Psalms 42:1-2

     How thirsty are you for God? Do you thirst for Him like a deer panting for water or could you go without Him for a while, allowing the things of this life to fill you? This is the challenge we read in the book of Psalms. I know it may not seem like a personal challenge made to you, but that's what you should take it as. In fact, anytime your reading the Bible and you come across a story of someone who has an experience with God or a desire for God that you don't have, you should take it as a personal challenge! Allow it to increase your hunger for God and to draw you in closer to Him.
     Here we see that faith is not just believing something, but it's having a passionate desire for God. Unfortunately, like it did for the psalmist, it often takes life getting rough before we actually realize how desperately we need God. But you don't have to wait for a rough season to notice your immense need for God. Look into your life today from an outsider's view and see if you're truly panting for the Lord. You may even want to ask an someone you trust if they think you seem passionately hungry for the Lord. First you have to be honest with where your hunger level is at. Then you need to ask God to increase it! Reading stories of people who are more hungry for God than you are is great way to do that!
Where is your hunger level for God at? What are some of your favorite stories of people who were or are more hungry for God than you?