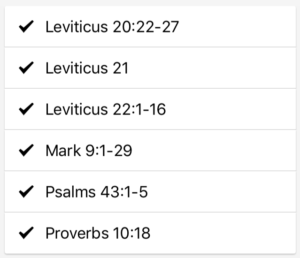 Thanks for joining us on this journey of building a consistent habit of reading our Bibles every day. The Bible reading plan we are using this year can be found here: One Year Bible or here on the Bible app. As always, if you miss a day, don't feel compelled to go back and catch up. Just skip it and start back on today's date. I am reading the NLT this year, but feel free to use whatever version you prefer. Now here are some thoughts from today's readings:
"The father instantly cried out, "I do believe, but help me overcome my unbelief!""
– ‭‭Mark‬ ‭9:24‬
     "Help my unbelief!" What a powerful and honest prayer. That's the kind of prayer Jesus loves. After hearing God's voice speaking through Jesus, the man immediately examines his own heart, sees his own deficiency, and asks for the Lord's help. What humility!
     Oh that we would all do the same! Every time we read the word of God or hear His voice in our heart, we should look inside our own hearts and cry out to God about what we find there! Isaiah saw God and cried out that he was a man of unclean lips! What will you find when you look into your own life? If you don't find anything that scares you or any kind of deficiency, you're either not looking hard enough, lying to yourself, or you haven't gotten close enough to God to realize how ugly some of the spots in your heart are.
     Don't despair when you find something unsavory in yourself. Do as this dear father did and take it to God. Be honest with where you are at and yet focused on what you want Him to do in you. Here's the great news: He'll do it! So get ready! Honest prayers bring about radical results.
When was the last time you felt God or heard Him speak to you? How did you respond?