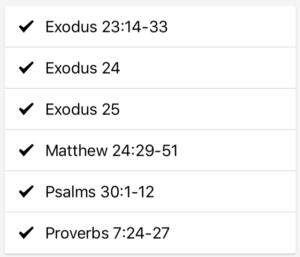 Thanks for joining us on this journey of building a consistent habit of reading our Bibles every day. The Bible reading plan we are using this year can be found here: One Year Bible or here on the Bible app. As always, if you miss a day, don't feel compelled to go back and catch up. Just skip it and start back on today's date. I am reading the NLT this year, but feel free to use whatever version you prefer. Now here are some thoughts from today's readings:
"A faithful, sensible servant is one to whom the master can give the responsibility of managing his other household servants and feeding them."
– Matthew 24:45

     Here Jesus describes here how we should live in light of this being the end of the ages. He could have listed some sort of heroic act of bravery we needed to accomplish or some great task of faith, but He doesn't. In fact, what He tells to do in light of the world coming to an end seems quite underwhelming.
     Instead of some great act, Jesus basically says just be faithful to do the basic things everyday. "Managing his other household servants and feeding them." That's what God is looking for. Someone who will faithfully and consistently take from what they have been entrusted and meet the needs of others. And don't downplay the heroics of that. Faithfulness is harder than it seems and, if you look around, it seems to be rare these days. So stop focusing on some great goal you need to accomplish and start focusing on how you can be more faithful managing your day to day decisions in following Christ. If you do, you may just accomplish that great feat of faith without even realizing it! Faithfulness is the great act of faith God is looking for!
How would you rate by this standard? What can you do to be more faithful on a daily basis?