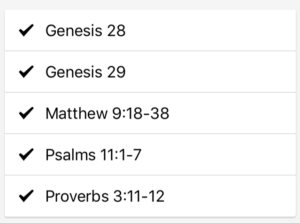 Thanks for joining us on this journey of building a consistent habit of reading our Bibles every day. The Bible reading plan we are using this year can be found here: One Year Bible or here on the Bible app. As always, if you miss a day, don't feel compelled to go back and catch up. Just skip it and start back on today's date. I am reading the NLT this year, but feel free to use whatever version you prefer. Now here are some thoughts from today's readings:
But when the crowd was put outside, He went in and took her by the hand, and the girl arose.
– Matthew 9:25

     In Matthew 9 we see Jesus raise a girl from the dead. He says she is only sleeping and the crowd begins to laugh at Him. Can you imagine laughing at Jesus?! Then Jesus pulls a Jesus move… He kicks them all out of the house. Yes. That's a Jesus move. Forget the halo and the outstretched arms. Jesus is serious about getting the wrong things out.
     What neigh-sayers do you need to kick out of your life so God can resurrect your dreams, your family, your faith, or your future? Notice Jesus didn't make excuses for them or say "but they mean well" or "but their family". He didn't try to reason with doubt or doubters. He recognized their negativity as a road block to resurrection. What are the road blocks in your life? Who are the people who may need to get out?