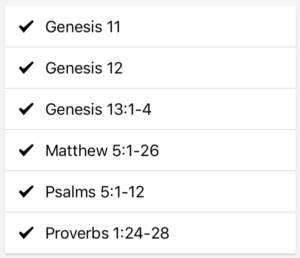 Thanks for joining us on this journey of building a consistent habit of reading our Bibles every day. The Bible reading plan we are using this year can be found here: One Year Bible or here on the Bible app. As always, if you miss a day, don't feel compelled to go back and catch up. Just skip it and start back on today's date. I am reading the NLT this year, but feel free to use whatever version you prefer. Now here are some thoughts from today's readings:
     Jesus teaches here what is called the sermon on the mount. He starts with the beatitudes (that's the "blessed are the __________" list). All throughout this sermon, you see two themes: our relationship with God is important and so is our relationship with others. God cares about them both!
     I also found this verse to be encouraging since I am getting up early to do this:
"Listen to my voice in the morning, Lord. Each morning I bring my requests to you and wait expectantly."
‭‭Psalms‬ ‭5:3‬
There's something powerful about giving God the first part of your day. That's why I encourage the #FIRST15. Its a trendy and easy way to put God first in the mornings. You don't have to spend the first hour of your day in prayer to please God. He is a parent, and like all good parents, He loves to see you make baby steps as you grow up in your faith. Waking up 15 minutes earlier than normal is one of the most powerful "baby" steps you can make, however, the difference it will make in your life will not be "baby" sized at all!