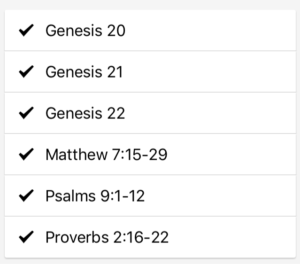 Thanks for joining us on this journey of building a consistent habit of reading our Bibles every day. The Bible reading plan we are using this year can be found here: One Year Bible or here on the Bible app. As always, if you miss a day, don't feel compelled to go back and catch up. Just skip it and start back on today's date. I am reading the NLT this year, but feel free to use whatever version you prefer. Now here are some thoughts from today's readings:
     Here we see the tale of two sons, Ishmael and Isaac. God telling Abraham to send his son away may seem harsh or unloving, but you have to remember that God's ways are higher than ours. He sees the big picture. He's good, and He never does wrong by anyone. Also, though this story is true, it holds a lot of symbolism too, as Paul tells us in the New Testament.
     Ishmael represents doing things through the flesh. He was Abraham's way of trying to reach his destiny without waiting on and trusting in God. Isaac, on the other hand, represents trusting God's promise. Here we see God sending away the "flesh" so Abraham could focus on the promise. That's what God is wanting to do in us today! What or who do you need to send out of your life so you can focus your life on God's promises for you?
     Remember, just like it wasn't easy for Abraham to send Ishmael away because he loved him, we too have fallen in love with our fleshly desires. It won't be easy for us to send them off either, but it will be worth it. So make the tough decision today to focus on the promises of God for you life, and give up any thing that smells like flesh!