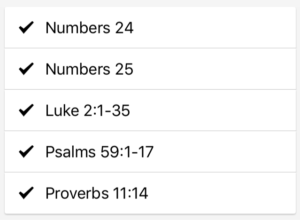 Thanks for joining us on this journey of building a consistent habit of reading our Bibles every day. The Bible reading plan we are using this year can be found here: One Year Bible or here on the Bible app. As always, if you miss a day, don't feel compelled to go back and catch up. Just skip it and start back on today's date. I am reading the NLT this year, but feel free to use whatever version you prefer. Now here are some thoughts from today's readings:
But Mary kept all these things in her heart and thought about them often.
– Luke 2:19

     Mary "kept all these things in her heart". What an incredible idea! How often do we forget the great things God has done for us and in us. How often we forget the promises He has made and His faithfulness to fulfill them. Mary treasured what she was hearing. She replayed it in her heart with joy and expectation, trusting God to fulfill His promise and her destiny.
     What are you treasuring in your heart? Better yet, what's in your heart all together? Is it fear? Anger? Regret? Lust? Or are you treasuring something from the Lord? All of us have our thoughts set on something or someone. The real question is, what or are we focusing on, and is it or are they worth it. Truthfully, God alone is worth being our consuming thought. If you're going to let a thought take over your brainwaves, let it not be stress, worry, doubt, fear, greed, pride, or insecurity. Let it Jesus.
     Treasure Jesus. Treasure His love. Treasure the promises He has made. Treasure His word. Treasure what He is teaching you and wear He is taking you. Treasure your relationship with Him. Jesus is the only Treasure worth having in our hearts. But treasuring something requires focus, which takes energy. So spend the energy to focus on Him as your treasure today!
What consumes your thoughts? What promise from God for your life, fulfilled or yet to be fulfilled, can you focus on instead?