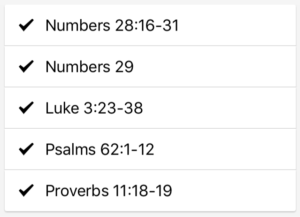 Thanks for joining us on this journey of building a consistent habit of reading our Bibles every day. The Bible reading plan we are using this year can be found here: One Year Bible or here on the Bible app. As always, if you miss a day, don't feel compelled to go back and catch up. Just skip it and start back on today's date. I am reading the NLT this year, but feel free to use whatever version you prefer. Now here are some thoughts from today's readings:
Jesus was about thirty years old when he began his public ministry. Jesus was known as the son of Joseph. Joseph was the son of Heli.
– Luke 3:23

     Jesus "was known as" the son of Joseph. That put certain ideas and expectations on Him. It may have even put limitations on Him in other's minds. People had an automatic opinion of His worth, His potential, and His future. And all of this came because of a false supposition of who He was.
     What do people suppose about you? Do they judge you because of your family, your past, the way you look? What limits have people put on you based on what they supposed was true about you? More importantly, have you excepted any of those labels? You too can become a label breaker like Jesus. He refused to allow Himself to be held bound by the presuppositions of others. Maybe it's time we do the same!
What labels have you allowed yourself to be bound by? How are you going to break free from them?