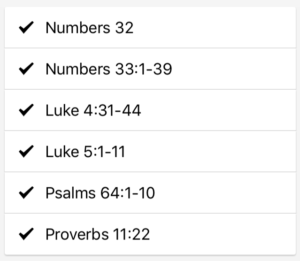 Thanks for joining us on this journey of building a consistent habit of reading our Bibles every day. The Bible reading plan we are using this year can be found here: One Year Bible or here on the Bible app. As always, if you miss a day, don't feel compelled to go back and catch up. Just skip it and start back on today's date. I am reading the NLT this year, but feel free to use whatever version you prefer. Now here are some thoughts from today's readings:
"Master," Simon replied, "we worked hard all last night and didn't catch a thing. But if you say so, I'll let the nets down again."
– Luke 5:5
     Two things jumped out at me from our New Testament passages today. First, look at the authority that Jesus spoke with. When we hear of someone speaking with authority, we tend to think it means they spoke in definite terms or with force. But it goes on to describe that the difference with Jesus was that His words made a physical impact. Demons were cast out and people were healed. That's real authority!
     Today, many people think they speak with authority because of their position, style, or popularity. However, the truth is, if you're not making a physical, tangible, or measurable impact, you lack authority. I'm not saying you have to cast out demons, but Jesus did say we could speak to mountains and they would move. Ask the Lord to show you how to speak with the same authority as Jesus, then exercise that authority!
     The second thing that jumped out at me was Peter trying to tell Jesus they had fished all night and caught nothing. He obviously didn't think Jesus' plan what a great idea. He had preconceived ideas of failure because that's what his past experience and all the research and data showed. He was willing to obey Jesus, but first he felt the need to give Jesus some information that Jesus "didn't have" thinking Jesus might change His mind.
     How often do we do this to God? Probably as often as God wants us to do something we don't initially want to! We try to reason out all the issues that would cause God to change His mind. He never does. News flash: God already knew your excuses when before He put the difficult thing on your heart. We, like Peter, must trust God and obey anyways.
What difficult or confusing thing has God asked you to do? Why haven't you started it yet?