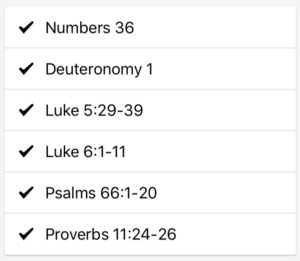 Thanks for joining us on this journey of building a consistent habit of reading our Bibles every day. The Bible reading plan we are using this year can be found here: One Year Bible or here on the Bible app. As always, if you miss a day, don't feel compelled to go back and catch up. Just skip it and start back on today's date. I am reading the NLT this year, but feel free to use whatever version you prefer. Now here are some thoughts from today's readings:
But Jesus knew their thoughts. He said to the man with the deformed hand, "Come and stand in front of everyone." So the man came forward.
– Luke 6:8
     Jesus is so in your face! He knew what the Pharisees were hoping He would do and how they wanted to use it against Him. He could have been wise and smooth and slipped out without giving them what they wanted, but instead He called for the man with the withered hand to stand up so He could heal him right in front of all of them. Jesus was exposing the wickedness in their hearts in the wide open.
     Doesn't it seem like God does the same with us? Sometimes it seems like He leads us directly into the face of the very thing we are trying to avoid and makes us deal with. Or, like He did with the Pharisees here, He'll lead us to the very confrontation we thought we wanted then show us how wrong our hearts and motives are. Jesus doesn't mind setting our issues right in front of us and tackling those things in broad daylight. So anytime you think your hiding your thoughts or motives from God, just know that if you don't lay it all on the table, Jesus will (FYI, it's usually easier if we don't wit for Him to do it)!
What are you holding back from Jesus that He wants to confront in your life?