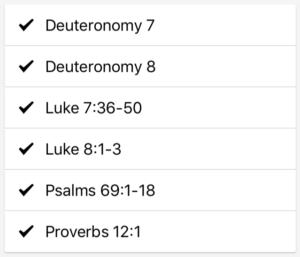 Thanks for joining us on this journey of building a consistent habit of reading our Bibles every day. The Bible reading plan we are using this year can be found here: One Year Bible or here on the Bible app. As always, if you miss a day, don't feel compelled to go back and catch up. Just skip it and start back on today's date. I am reading the NLT this year, but feel free to use whatever version you prefer. Now here are some thoughts from today's readings:
 Remember the Lord your God. He is the one who gives you power to be successful, in order to fulfill the covenant he confirmed to your ancestors with an oath.
– Deuteronomy 8:18
     There are a couple of things interesting about this verse. It's not a promise. It's doesn't say the Lord promises to give everyone success. Many versions actually say, "who gives you power to create wealth." God doesn't promise that either. It's more of a reminder. IF God has given you the ability to create wealth, remember that it was in fact Him who gave you that ability and He gave it to you for a purpose.
     What's the purpose? It's to confirm His covenant. Essentially it's to show the world that God made a promise to Abraham to build a people and He is keeping that promise. God is still building a people today. It's called His Church. And if God has given you the ability to create wealth, then you are to use it to show the world the reality of a loving God who is creating a loving people. The fulfillment you find in serving God with your wealth will far surpass anything else you could spend you hard earned money on. It's time for you to find the the purpose behind your provision.
     How do you know if God has given you the ability to create wealth? Well, there are kind of two levels to this. First, if you are making money of any sort, you are creating wealth. So you fall into this category (which is most of the people reading this). But there are some who are especially gifted. You have more money then you honestly need. Others consider you to be quite blessed, maybe even rich. To you, this message is especially important. You want find true joy in all your possessions until you begin to realize the purpose behind why God gave them to you in the first place. Do you want God to be able to trust you with more? Start using what He has give you for His purpose. Build the Church.
How can you use your provision to build the Church? How can you use the gifts God's given you to increase your success or wealth so you can do more?