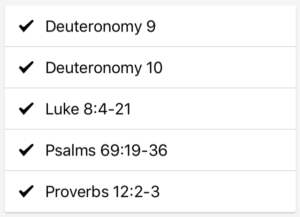 Thanks for joining us on this journey of building a consistent habit of reading our Bibles every day. The Bible reading plan we are using this year can be found here: One Year Bible or here on the Bible app. As always, if you miss a day, don't feel compelled to go back and catch up. Just skip it and start back on today's date. I am reading the NLT this year, but feel free to use whatever version you prefer. Now here are some thoughts from today's readings:
So you, too, must show love to foreigners, for you yourselves were once foreigners in the land of Egypt.
‭‭- Deuteronomy‬ ‭10:19‬
     This seems almost like a command from Jesus. You used to be a foreigner, so you know how that feels. Treat the foreigners among you as you would have wanted to be treated. Seems pretty simple, right? Not for the children of Israel. They had a hard time remembering how much God had done for them.
     We face this same thing all the time. We are treated well, yet it doesn't take us long to forget that and treat someone else in a similar situation in an unloving way. One of the greatest things we can do as believers is to remember the good. It's easy to love your neighbor if you are feeling overwhelmed with love yourself. And it's easy to feel overwhelmed when you realize all that God and others have done for you!
     The tricky part here is that everyone who was an adult during their time as foreigners in Egypt was dead when Moses spoke these words (besides Joshua, Caleb, and Moses himself of course). Moses is asking them to take ownership of an experience they've never had and use it to help them obey God from the heart. He is asking them to remember something their ancestors experienced. This is a challenge for us, too. Not only has God been good to you, but He was faithful to those who came before you. When you add that to all He has done for you, it's hard not to feel covered and love. We need to stay in that place of love so we can effectively share that love with others!
What has God done for you in your life?