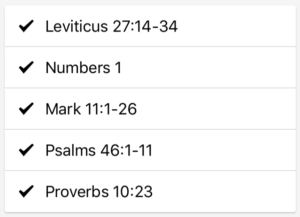 Thanks for joining us on this journey of building a consistent habit of reading our Bibles every day. The Bible reading plan we are using this year can be found here: One Year Bible or here on the Bible app. As always, if you miss a day, don't feel compelled to go back and catch up. Just skip it and start back on today's date. I am reading the NLT this year, but feel free to use whatever version you prefer. Now here are some thoughts from today's readings:
Peter remembered what Jesus had said to the tree on the previous day and exclaimed, "Look, Rabbi! The fig tree you cursed has withered and died!"
– Mark 11:21
      This section where Jesus curses the fig tree has always confused me. The fig tree wasn't supposed to have fruit. It wasn't the right season for it. Yet, Jesus cursed it for not having fruit? How does that seem fair? Well, the short answer is, it's not. But it does give us some insight into Jesus. It's easy for a fruit tree to bear fruit in season. That's natural. All fruit trees do it. Bearing fruit out of season, now that is supernatural.
     Let's look at some other statements Jesus made. How about when He told us anyone can love someone who loves them back, but we are to love our enemies. Doesn't that sound similar? Maybe the lesson of the fig tree is that anyone can be on fire for God (or bear fruit) in the "on fire for God season", but it takes the work of the Holy Spirit to keep you on fire when that season is over.
     I have had so many friends who were radically on fire for God, only to see that fire fade when life didn't move as quickly as they thought it would, when the opportunities didn't come like they believed they would, when they got out of the atmosphere that birthed the passion in their hearts, or when they were faced with their first sinful struggle, dry patch, or lonely season. Keeping up your relationship with God is easier in some seasons and much harder in others. Don't let the hard seasons stop you! That's when you cry out to the Holy Spirit even more and He shows up in a deeper, more powerful way than you have ever experienced.
Examine your own heart. Does your own fruit only come in "easy fruit creating" environments? Or are you an in season and out of season kind of follower of Jesus?