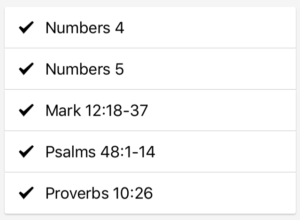 Thanks for joining us on this journey of building a consistent habit of reading our Bibles every day. The Bible reading plan we are using this year can be found here: One Year Bible or here on the Bible app. As always, if you miss a day, don't feel compelled to go back and catch up. Just skip it and start back on today's date. I am reading the NLT this year, but feel free to use whatever version you prefer. Now here are some thoughts from today's readings:
And you must love the Lord your God with all your heart, all your soul, all your mind, and all your strength.' The second is equally important: 'Love your neighbor as yourself.' No other commandment is greater than these."
– Mark 12:30-31

     What is the greatest commandment? Jesus says to love the Lord and then to love your neighbor. The scribe than added that Jesus was right, and that if you could do these two things, you had done greater than any sacrifice. Sometimes we feel like living for God is so difficult and that there are so many rules. But in the end, it is really simple. If we will do these two things correctly, and continue to pursue doing them more and more, we will find ourselves not having to stress or split hairs over the details. The right responses to situations will just be natural.
     We often stress ourselves out with all the "works" associated with being a follower of Christ. The Bible does say we should have good works, but they flow out of us as a result of what God is doing in us, not the other way around. You can simplify your walk with Christ with this one verse. Ask yourself every morning, "If I was going to love God with all my heart, soul, mind, and strength today, what would that look like?" Then do that. Any time a situation comes up in your life, you can ask your self, "How would I want to be treated in this situation?" Then do that.
     Both the Old Testament and the New are chalk full of rules about how we should live, and each one of those is important to us as believers today and should not be ignored. However, it's really easy to get bogged down in all the details. It's a "miss the forest for the trees" sort of thing. So start simple. God doesn't need you to be perfect. He does need you to be hungry for more of Him and loving to others. So start with this one verse and once you are knocking this one out, you can start miring through the details.
How can you apply this verse to your life today?