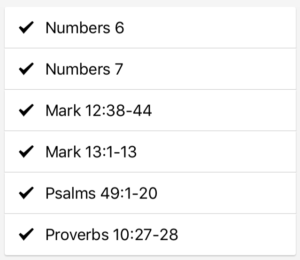 Thanks for joining us on this journey of building a consistent habit of reading our Bibles every day. The Bible reading plan we are using this year can be found here: One Year Bible or here on the Bible app. As always, if you miss a day, don't feel compelled to go back and catch up. Just skip it and start back on today's date. I am reading the NLT this year, but feel free to use whatever version you prefer. Now here are some thoughts from today's readings:
"For they gave a tiny part of their surplus, but she, poor as she is, has given everything she had to live on."
– Mark 12:44

     Giving has always been about percentage to God. It's relative to what you have. So two people may each give $100, but to the one who made $10,000 that week, it's not a massive sacrifice. It is, however, a sacrifice to the one who made $400 that week.
     Does your giving sting at all? Would other people find the percentage you give to be a little crazy? Again, not just the amount. Some people may find it crazy that someone gave $100,000, but God may see that they made $20 million. If your giving doesn't sting or it wouldn't seem unusual to the average person, you may want to consider giving a higher percentage away. Not that are doing it so we can tell people how awesome our percentage of giving is. For the most part, we should keep that a secret. But it should be a challenge to our own hearts. I'm don't want to let a poor widow out give me! How about you?
     Money was very important to Jesus. Why? Because it is an idol to so many people. When we give sacrificially, we are showing God that our hope is not in money or this world's systems, but our hope is in Him! If the idea of pastors, churches, or Christians talk about giving upsets you, stop for a second and ask yourself why. Is it because you really think all they are after is money? Even if you're correct, does it change what the Bible teaches about giving? No, not at all. The truth is, in my experience, most people who hate teachings on giving do so because they hate giving. And why do they hate giving? Maybe money has become an idol in their lives. There's only one way to get rid of a money idol. Give!
Is money an idol in your life? How do you know? What is the Lord challenging your to do concerning your money and giving?