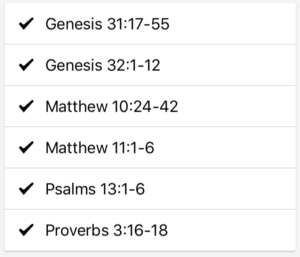 Thanks for joining us on this journey of building a consistent habit of reading our Bibles every day. The Bible reading plan we are using this year can be found here: One Year Bible or here on the Bible app. As always, if you miss a day, don't feel compelled to go back and catch up. Just skip it and start back on today's date. I am reading the NLT this year, but feel free to use whatever version you prefer. Now here are some thoughts from today's readings:
When Jesus had finished giving these instructions to his twelve disciples, he went out to teach and preach in towns throughout the region.
– Matthew 11:1

     Jesus couldn't do everything for everyone… and He's was the Son of God in human form! I want you to let that sink in. While Jesus was on earth, He walked past sick people and left them that way. He didn't share the gospel with everyone. He didn't give to all the poor or feed all the hungry. Jesus, the Son of God, was limited. How much more do you think we are limited?
There were a lot things Jesus could do, but chose not to do. He did, however, choose 12 young men and poured his life into them. In fact, that's pretty much all He did. He didn't have a whole lot of time for other people. He would heal people and speak to crowds and had the occasional conversation with a random person, but most of his time was spent with 12 guys. Jesus had to focus His efforts.
     We have to do the same thing. Sometimes we can get so caught up in what all has to be done and how many people need Christ, that we either do nothing, or our efforts are so scattered that they're ineffective. Want to make an impact like Jesus? Pick a few people and pour into them, then encourage them to do the same. That's the Jesus way.
Think about a laser beam. It's simply focused light. When light is extremely focused, it can cut through just about anything. The same is true about your life. Once you find what God has called and created you to do, have a laser-like focus and you too will cut through any barriers in your way and make a massive impact. Focused efforts produce multiplied results.
Where do you do need to focus your efforts and how are you going to go about it?