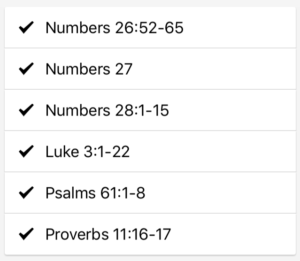 Thanks for joining us on this journey of building a consistent habit of reading our Bibles every day. The Bible reading plan we are using this year can be found here: One Year Bible or here on the Bible app. As always, if you miss a day, don't feel compelled to go back and catch up. Just skip it and start back on today's date. I am reading the NLT this year, but feel free to use whatever version you prefer. Now here are some thoughts from today's readings:
Give them someone who will guide them wherever they go and will lead them into battle, so the community of the Lord will not be like sheep without a shepherd."
– Numbers 27:17
     Do you have a long term plan for what God is doing in you and through you? Moses prayed that God would raise up a leader for Israel after he died, but God had already raised one up. Joshua had been with Moses during some of the most pivotal moments in his life. He had seen the miracles, fought the battles, stood against the crowd when faith wasn't popular, and most of all, he had spent time alone with God.
     Here is an important question we all need to be asking: who's next? Who can I pass on what I'm learning so the next generation can accomplish what I only dreamed about? You're never too young to ask this question, either. In fact, the sooner you start asking it, the better. God had already been preparing Joshua way in advance to him becoming the leader and wee need to be preparing the next generation of believers to lead small groups, serve on teams, be leaders, pastor Churches, and become missionaries. Everyone can help someone grow.
You may be thinking, "Moses was lucky. I don't have a Joshua around me." Remember this, the Joshua that took over Israel after Moses was not always a "Joshua" either. Don't wait for a Joshua. Grow one. Who has God put in your life that's interested, available, and has the potential. Start pouring into those people now! Don't wait until you need one. Then it will be too late.
Who is in your life or your Church that you can start pouring into right now?