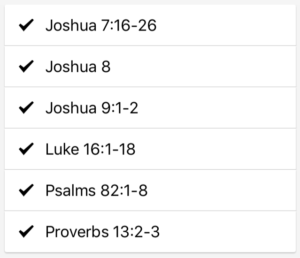 Thanks for joining us on this journey of building a consistent habit of reading our Bibles every day. The Bible reading plan we are using this year can be found here: One Year Bible or here on the Bible app. As always, if you miss a day, don't feel compelled to go back and catch up. Just skip it and start back on today's date. I am reading the NLT this year, but feel free to use whatever version you prefer. Now here are some thoughts from today's readings:
"Here's the lesson: Use your worldly resources to benefit others and make friends. Then, when your possessions are gone, they will welcome you to an eternal home."
– Luke 16:9

     Here Jesus tells us another story that would just blow people's minds if they were really paying attention to it. He literally tells us to use money to make friends and benefit others. Of course, there will be those in the world that hate us because of Jesus, but what Jesus is saying here is, there should be others in the world that love and would have your back. That's super practical, but it doesn't really sound like the Jesus we see in movies or that we often hear preached about.
     In fact, Jesus rebukes believers for not being as shrewd as unbelievers. Jesus wants His people to be wise and cunning. He wants us to make good business deals and build business relationships so that when things get crazy, we have people who will have our backs. Jesus literally says here to use our money to make friends. Not the normal money sermon at your Church, huh? But this is the kind of thing Jesus does. We want to either have so little spirituality that it doesn't mess up our lives or so much that our lives are a complete mess. Jesus is somewhere in the middle teaching us to make wise decisions and live in faith. He teaches us to make a plan and to obey the random promptings of His Holy Spirit. Jesus is both practical and spiritual and He desires for us to become the same!
Would people describe you as under-spiritual or over-spiritual? What do you need to do to become more balanced?