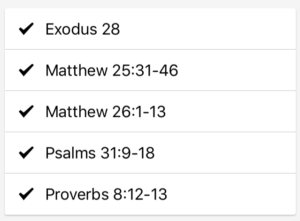 Thanks for joining us on this journey of building a consistent habit of reading our Bibles every day. The Bible reading plan we are using this year can be found here: One Year Bible or here on the Bible app. As always, if you miss a day, don't feel compelled to go back and catch up. Just skip it and start back on today's date. I am reading the NLT this year, but feel free to use whatever version you prefer. Now here are some thoughts from today's readings:
"I tell you the truth, wherever the Good News is preached throughout the world, this woman's deed will be remembered and discussed.""
‭‭- Matthew‬ ‭26:13‬
Here we see a woman pouring out her love for Jesus by pouring expensive perfume on Him. One of the disciples sees this as a waste, but Jesus sees it quite differently. In fact, Jesus is quoted as saying basically that the whole world and every generation will hear about what this woman has done.
Notice here what could be remembered about this woman, isn't. How hard did she have work and what sacrifices had to be made to get that oil? Many believe should could have been a very immoral woman and the oil purchased as part of you sinful occupation. But once Jesus enters the scene, none of this seems to matter anymore. Or at least it won't be remembered. What she DID and what she GAVE, that's what will be remembered. So why do we focus so much on the errors of our past when God is only looking for our praise in the present? I wonder if you and I will ever give in such an extravagant way that the world will hear about?
Imagine this verse was about you. What gift would it be that you would have given Jesus that would prompt Him to tell the whole world?