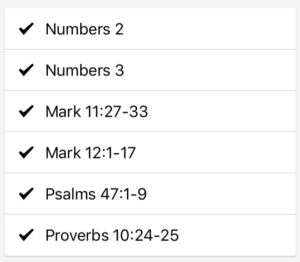 Thanks for joining us on this journey of building a consistent habit of reading our Bibles every day. The Bible reading plan we are using this year can be found here: One Year Bible or here on the Bible app. As always, if you miss a day, don't feel compelled to go back and catch up. Just skip it and start back on today's date. I am reading the NLT this year, but feel free to use whatever version you prefer. Now here are some thoughts from today's readings:
The fears of the wicked will be fulfilled; the hopes of the godly will be granted.
– ‭‭Proverbs‬ ‭10:24‬
     Something struck me about this verse. I wonder if the verse is flipped if it gives us some insight in why people make wicked decisions and why others make more righteous ones. What I means is, let's not assume that people are just simply wicked or Godly, but that they are just people. Then, let's pay attention to way each one thinks and focuses on which may lead them to become either wicked or Godly.
     Could it be that a man starts making wicked decisions when he spends all his time thinking about his fears? Could it be that a righteous person makes righteous decisions because he doesn't focus on his fears, but has his desires set on the Lord and focuses on those desires? I wonder if you'd stop dwelling on what you fear and start dwelling on the goodness of God that meets every Godly desire in your life, if you'd see your self making different choices. The only way to find out is to try it!
     The truth is, who we are today is equal to the sum of our past decisions. Our past decision are determined by the way we think. The way we think changes based on what we choose to think about, and that decision continues to change who we are. It can become a viscous cycle. The only way to make a change is to change who is in control. Put God in charge of your thoughts today. Ask Him to help you think His thoughts and to walk in His ways. He will. Once you consistently change your thoughts, you'll change the way you think, which will change the decisions you begin to make, and, in time, will change who you are.
What thoughts do you need to change? How are you are they affecting your life? What's your plan to change them?